Suppliers of Refurbished and Used IP Phones
We at Green IT Soluzione are honored to be Uttar Pradesh, India's top choice for high-quality Refurbished and Used IP Phones Suppliers. We take pleasure in our commitment to sustainable practices and cost-effective solutions. We have established ourselves as a reliable supplier in the dynamic city of Uttar Pradesh, where businesses thrive on innovation.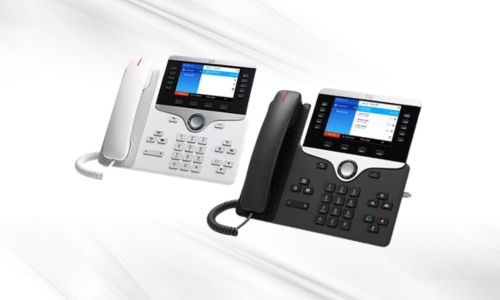 An IP phone, often known as an "Internet Protocol phone," is a contemporary phone that places and receives calls online. It uses internet connections, like WiFi or Ethernet, to transfer voice data rather than conventional phone lines.
Key Characteristics and Purposes of IP Phones
Making Calls:

An IP phone allows you to make and receive calls locally and internationally, just like a traditional phone.

Voicemail:

When you are unable to answer a call, voicemail can store voice messages.

Call waiting:

When another call comes in while someone else is on the line, the IP phone notifies you so you can switch between calls.

Call Forwarding:

If you are not on your IP phone, you can forward calls to another number, such as your mobile phone.

Conference calls:

IP phones frequently offer multiparty calls, enabling simultaneous meetings with multiple parties.

Speed Dial:

You can save frequently called numbers as shortcuts in your speed dial for quick calling.

Caller ID:

It informs you of the caller's identity by displaying their name and contact information on the screen.

Redial:

With a simple button, you can quickly call the previous number you phoned.

Speakerphone:

For hands-free discussions, you can switch to the speakerphone mode.

Directory or Contacts:

Store your crucial contacts for quick access in a manual or contacts.

Video Calls:

A camera is available on some IP phones for video calls, allowing you to view the person you're speaking to.

Do Not Disturb:

To avoid ringing or other distractions at particular times, you can set your phone to "Do Not Disturb" mode.

Intercom:

This feature enables internal calls within your home or workplace network.

Support for Headsets:

For private chats, a headset can be connected.

Call History:

Makes it simple to call back by keeping track of your most recent calls.
These are only a few attributes and capabilities that make IP phones practical and adaptable communication tools for private and professional use.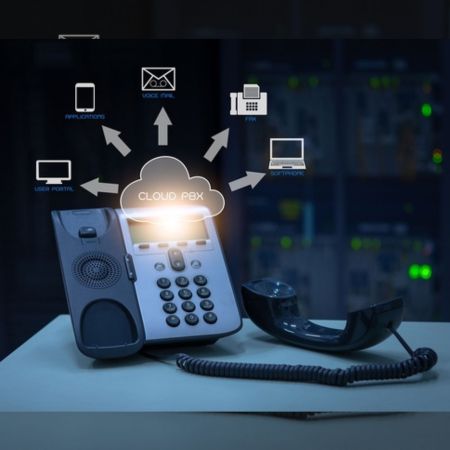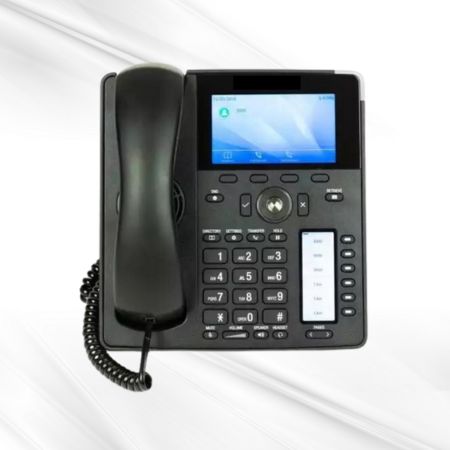 Regular (Landline) Phone vs. IP Phone:
Internet Protocol (IP) Phone:
Similar to using your WiFi to make calls, IP phones use the internet to do so.
Added services like voicemail, call forwarding, and video calls are frequently included with IP phones.
Because IP phones use the internet, making long-distance or international calls is often less expensive.
They work anywhere there is internet access, but they require electricity to run.
Standard Telephone (Landline):
Like conventional phones in houses, landline phones use phone lines to place calls.
They are straightforward and mainly focused on making and receiving simple calls.
Because they draw electricity from the phone line, landline phones typically continue functioning even when the power is gone.
They are location-dependent and only work where a phone line is established.
Landline phones can cost more than IP phones to call distant locations.
The Advantages of Used and Refurbished IP Phones and Some Facts to Consider
Businesses in Uttar Pradesh, India, are constantly looking for creative ways to reduce the cost of their phone systems. Purchasing refurbished and used IP phones from reputable Suppliers is one alternative. Let's examine their potential benefits and potential drawbacks.
The Advantages:
Save cash: The most significant feature of these IP phones is that they are frequently less expensive than brand-new models from reputable Suppliers. That implies you can purchase all the upscale features without exceeding budget.
Benefit the Environment: By purchasing reconditioned IP Phones from environmentally responsible Suppliers, you are genuinely helping the environment. There will be less electronic waste because you give an IP Phone a second chance.
Quality Checked: Reliable Suppliers like Green IT Soluzione guarantee that these IP Phones function smoothly. You don't need to be concerned about them breaking down because they have been tested to ensure they are ready to use.
Refurbished IP phones include many features, including voicemail, call forwarding, and conference calling. They are relatively adaptable to various business requirements.
Consider a few things:
Not Always a Lengthy Warranty: These IP phones from reputable Suppliers occasionally don't have a lengthy warranty. You could have to handle it yourself if something goes wrong.
A Little Worn: Reputable providers of used IP phones may occasionally have some scratches or other evidence of wear and tear. Usually, it only affects the outside and does not impact how they function.
Software Updates: Occasionally, older IP Phones from reliable Suppliers cannot receive the newest features or updates. You might not think much of that, but it's still helpful to know.
We are Green IT Soluzione, a company based in Uttar Pradesh, India, specializing in green technology. Our focus is on providing high-quality refurbished IP Phones to ensure your satisfaction. You can save money by choosing us as your supplier while contributing to environmental protection. It's a win-win situation!
A Complete Guide to Picking the Perfect Used and Refurbished IP Phone
Businesses and individuals alike look for low-cost, long-term solutions to their communication demands in the developing city of Uttar Pradesh, India. A refurbished or used IP phone can be a wise purchase, but research is necessary before making a choice. Here is a thorough manual to assist you in completing the process:
Selection of Suppliers:

Start your journey by choosing a dependable vendor like Green IT Soluzione, renowned for its commitment to quality and sustainability. Reputable vendors carefully test and restore phones to ensure they commit to industry standards.

Considering the Budget:

Establish a budget before you buy an IP phone. Used and refurbished phones can be cheaper, but having a clear budget is essential.

Evaluation of the Feature:

Make a list of the features your IP phone must have. From primary calling to more advanced features like voicemail, call forwarding and video conversations, different models offer a variety of functions.

Check for Compatibility

Make sure the refurbished or used IP phone you choose is functional with your current network and phone system. A seamless integration requires compatibility.

Fifth-party Warranty Assurance:

Examine the supplier's warranty terms. While refurbished phones might not come with the same lengthy warranties as new ones, having some protection is necessary for peace of mind.

Physical condition assessment:

When possible, check the phone's physical condition. Look for signs of wear and tear, paying close attention to the interior and exterior components.

Review of User Comments:

Use user reviews and testimonials to learn from people who bought the same refurbished or used IP phone model.

Recognising the Return Policy:

If the phone doesn't meet your expectations, be aware of the supplier's return or exchange policy.

Evaluation of Customer Support:

Analyze the supplier's level of customer service. When setting up and troubleshooting, accessible and helpful customer care can be useful.

Sustainable Development:

You may help promote sustainability by decreasing electronic waste by selecting a refurbished or used IP phone. Supporting eco-friendly options is consistent with making responsible purchasing decisions.
By considering these factors, you may select the ideal refurbished or used IP phone to suit your demands in Uttar Pradesh, India.
IP Phone for Home:
Financial Benefits: IP phones for home usage rely on the internet rather than conventional phone lines, so they can help you save money on your monthly phone bill.
Clear Calls: These phones often have sharp sound quality, allowing you to hear and be heard clearly.
Additional Functions: Voicemail and call waiting are useful extras on many home IP phones.
Video Calls: Some IP phones can even make video calls, enabling you to view the person you're speaking to.
Simple Installation: Installing an IP phone at home is usually simple. To use VoIP (Voice over Internet Protocol), you need a strong internet connection, the appropriate phone, and a VoIP service subscription.
You can learn more about Refurbished and Used IP Phone by visiting our website's dedicated page for the "Refurbished and Used IP Phone" product.
IP Phone Without a PBX:
Consider having an IP phone similar to an intelligent internet phone. Large organizations typically manage their internal calls using a PBX advanced phone system.
However, you only need some PBX gear if you work from home or own a small firm. Direct Internet phone service connection is possible with an IP phone.
You don't need to bother about the expensive PBX system because it is unnecessary. Going directly to the nice stuff is like that.
Easy Setup: Installing your IP phone without a PBX is simple. Your internet phone service will provide instructions, and you are ready to go once you follow them.
Economical: You only spend money on what you need; thus, it's frequently less expensive. Regular consumers and small organizations that don't require all the advanced PBX functions will find this excellent.
We Supply Our Products At The Following Cities Of Uttar Pradesh
Lucknow, Kanpur,Varanasi, Allahabad, Agra, Ghaziabad, Meerut, Aligarh, Mordabad, Bareilly, Saharanpur, Gorakhpur, Jhansi, Rampur, Mathura, Muzaffarnagar, Shahjahanpur, Farrukhabad, Mirzapur, Jaunpur.
Why Choose Green IT Soluzione as Your Refurbished and Used IP Phone Supplier?
In the thriving Indian city of Uttar Pradesh, Green IT Soluzione is your go-to supplier for refurbished and used IP phones. We take pride in providing high-quality, affordable communication solutions to fulfill your various demands.
Every phone we offer has undergone rigorous testing and certification as part of our dedication to quality, ensuring its dependability and performance. By partnering with us, you'll get an affordable communication solution and lessen the amount of electronic trash generated, promoting environmental sustainability.
Green IT Soluzione is your go-to source for trustworthy, environmentally friendly, and cost-effective communication solutions in Uttar Pradesh, India. Contact us to learn more about our refurbished and used IP phone selection.
Read More : Refurbished and Used IP Phone Suppliers in Andhra Pradesh